Before we open up this week's Faith and Fellowship blog hop I would love it if you would take a moment to fill out my three year blogiversary survey! Thanks, friends!!!
And now, for the blog hop...
Faith and Fellowship Guidelines
1. Link up a post (not just the link to your blog) from the week that shares what the Lord's been doing in your life or speaking to you.
2. Put the button on your blog post or blog so that others can hear about this wonderful group of Godly women.
3. Visit as many blogs as you're able and get to know your sisters in Christ!
4. Share this blog hop on social media using #FaithandFellowshipBlogHop or pin the button on pinterest.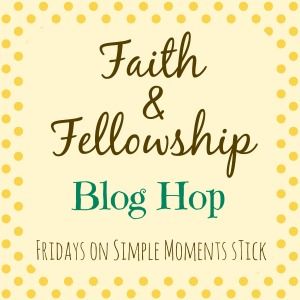 Susannah from Simple Moments Stick
Last Week's Most Viewed Posts:
Peculiar Treasure
Contentment
Susannah's Blog Post Pick:
Mary-andering Creatively
Open Your Heart to Compassion's Call
If you'd like to cohost in the future, please email Susannah at susannah.kellogg (at) gmail.com