Faith and Fellowship Guidelines
1. Link up a post (not just the link to your blog) from the week that shares what the Lord's been doing in your life or speaking to you.
2. Put the button on your blog post or blog so that others can hear about this wonderful group of Godly women.
3. Visit as many blogs as you're able and get to know your sisters in Christ!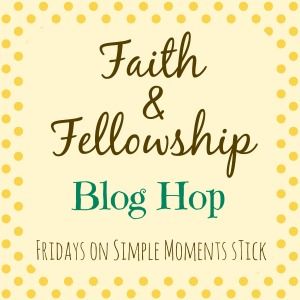 Susannah from Simple Moments Stick
This Week's Cohost:
From Bisons to Buckeyes is a platform for one young wife to inspire other young wives to keep God first and their husbands second in their lives. This blog is a place for married millennials to find marriage tips, ideas for dating your spouse, and advice based on biblical principles. In a world that's constantly telling us our marriages are bound to fail, From Bisons to Buckeyes believes that a happy, godly marriage is possible with a little work.
Last Week's Most Viewed Post:
The Best of Baby
Susannah's Blog Post Pick:
A Lot of Little Bit of Love
My Mum is Homeless and I Feel Helpless
Charlene's Blog Post Pick:
Queen K Smith
First things First: You are Enough
If you'd like to cohost in the future, please email Susannah at susannah.kellogg (at) gmail.com