Nate and I finally have a weekend with nothing planned. I'm going to have a whole weekend to go grocery shopping, clean my house, and work on some projects! Yes, I'm excited to do work. How dumb is that? And, yes, we've been so busy that I haven't grocery shopped for almost a month. We've had some pretty creative meals in our house this last month!
This weekend, I'm also excited to be able to have time to sit and reflect on the topic for this month's Faith and Fellowship linkup. I've been so encouraged by the last two months - In His Image and Bride of Christ - and I can't wait to have the Lord speak to me through you all again this month.
The topic for this month is "A Gentle and Quiet Spirit." (1 Peter 3:3-4) I know that I, for one, do not fit in with the world's definition of having a gentle and quiet spirit. I'm opinionated, sarcastic, and stubborn but I've come to understand that those aspects of my personality can go hand in hand with a Godly gentleness and quietness of spirit (Ok, I'll stop there because otherwise I'll give away my whole blog post. Haha).
I invite you all to meditate on 1 Peter, especially chapter 3, and ask the Lord to truly speak to you about what He means by His desire for us all to have gentle and quiet spirits.
Please join in and link up next Friday, the 27th!!!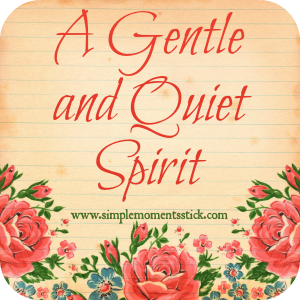 Check out my blogging "Little Sister":