Thank you to all of who joined in on the "
In His Image
" linkup last month. It was such a wonderful time to remember the truth that we are created in the Image of God. I was so encouraged by the posts that were written.
This month, I would love to encourage you to reflect and meditate on the idea that we are the bride of Christ. Whether we have been married for years or have never gone on a single date, our Heavenly Father is our husband, our romancer, and our lover.
On Friday, August 30th (the last Friday of the month), I will be hosting a linkup, allowing us to all reflect on this amazing truth! I really hope you join in, visit the blogs of the girls who join in, or (hopefully) do both!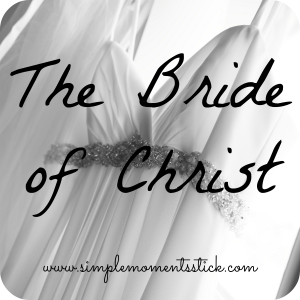 If you would like to partner with me for the linkup next month, don't hesitate to email me (susannah.kellogg(at)gmail.com), I'd love to hear what truths you would like to encourage others to mediate on and write about. It would be a blessing to partner with you!
Check out my blogging "Little Sister":